I have been living in Banff for the past ten years and have photograph many weddings and elopements all over the Canadian Rockies. Planning a big wedding can be overwhelming and a lot of couples decide to elope instead (that's what I did!). Eloping is usually less stressful but you still need to find the perfect guy, perfect dress and of course the perfect location! Banff National Park is already a popular destination for elopements but there's so many locations to choose from and if you are adventurous well you can basically get married anywhere in Banff as long as you respect the Parks rules. You can find more informations on having a wedding or elopement ceremony in Banff on their website by clicking on this link.
If you are dreaming of eloping in Banff, please get in touch with me and I will be happy to help you find the perfect location but for now have a look at the following photos to get inspired.
Tunnel Mountain Reservoir is a beautiful meadow located right in the Town of Banff. It is a popular location for outdoor wedding and elopements. Which is why you need to reserve this location with the Town of Banff. If you don't want to walk to far on your wedding day and still get amazing views, this is definitely a place to consider! The advantage of booking a place for your wedding day is that you are almost guarantee that it will be just you and it's also a location where you can set-up some chairs and an arch if you want a bit of decor or some guests in attendance. Tunnel Mountain Reservoir is beautiful year round.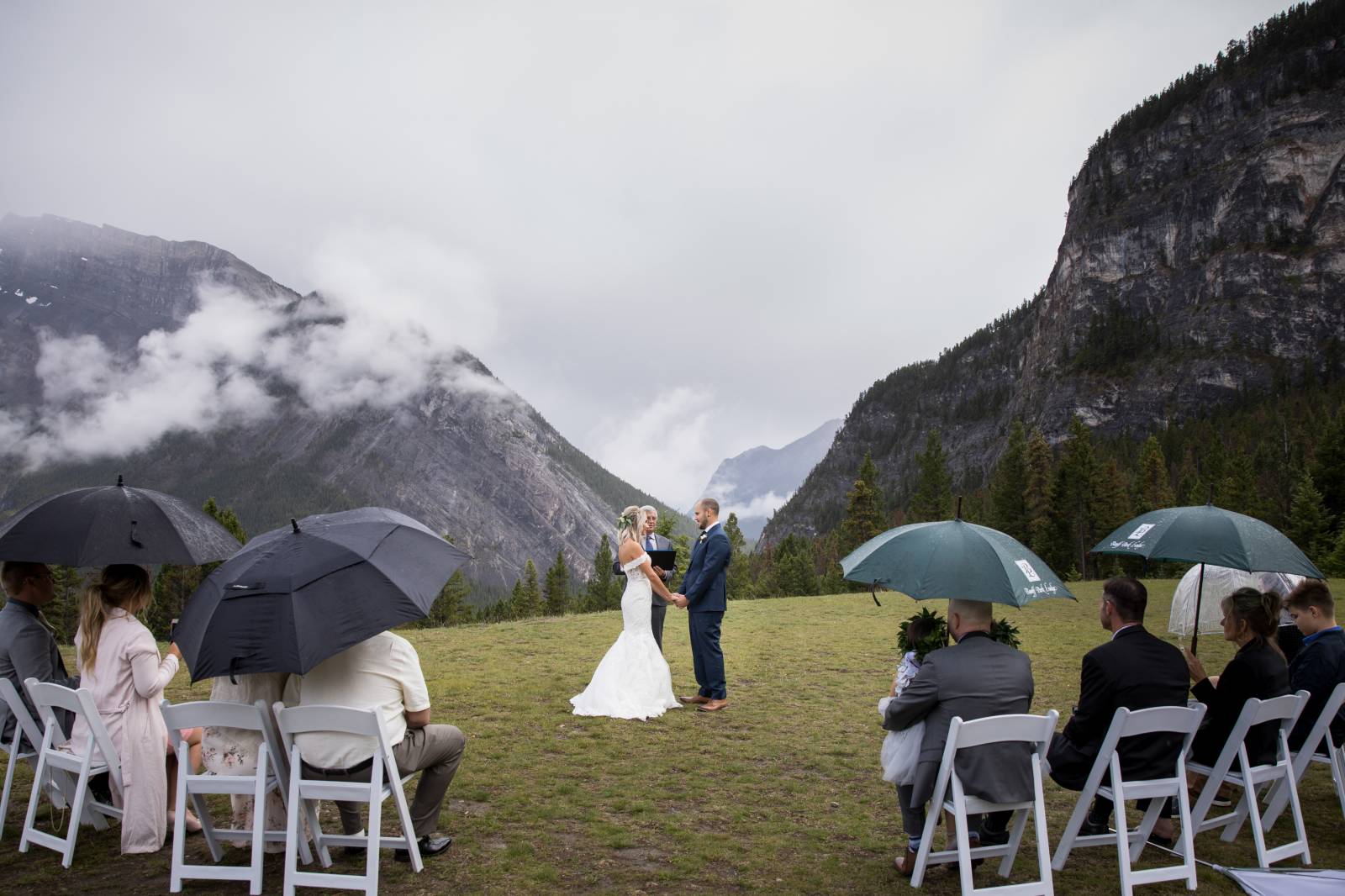 2. Lake Minnewanka
Lake Minnewanka is located outside the Town of Banff (10-15 minutes drive) and offers a lot of different options for an elopement or intimate wedding ceremony. You can get married at Lake Minnewanka any time of the year. It is one of my favourite location because there is so much variety especially if you are up for a little walk. You can have your ceremony by the water surrounded by mountains, in the forest if you prefer more intimacy or even on the frozen lake in winter. I have photographed many elopements at Lake Minnewanka and know my way around, I also know the best time of day to avoid the crowds and have the best lighting. Please contact me for more information on eloping at Lake Minnewanka!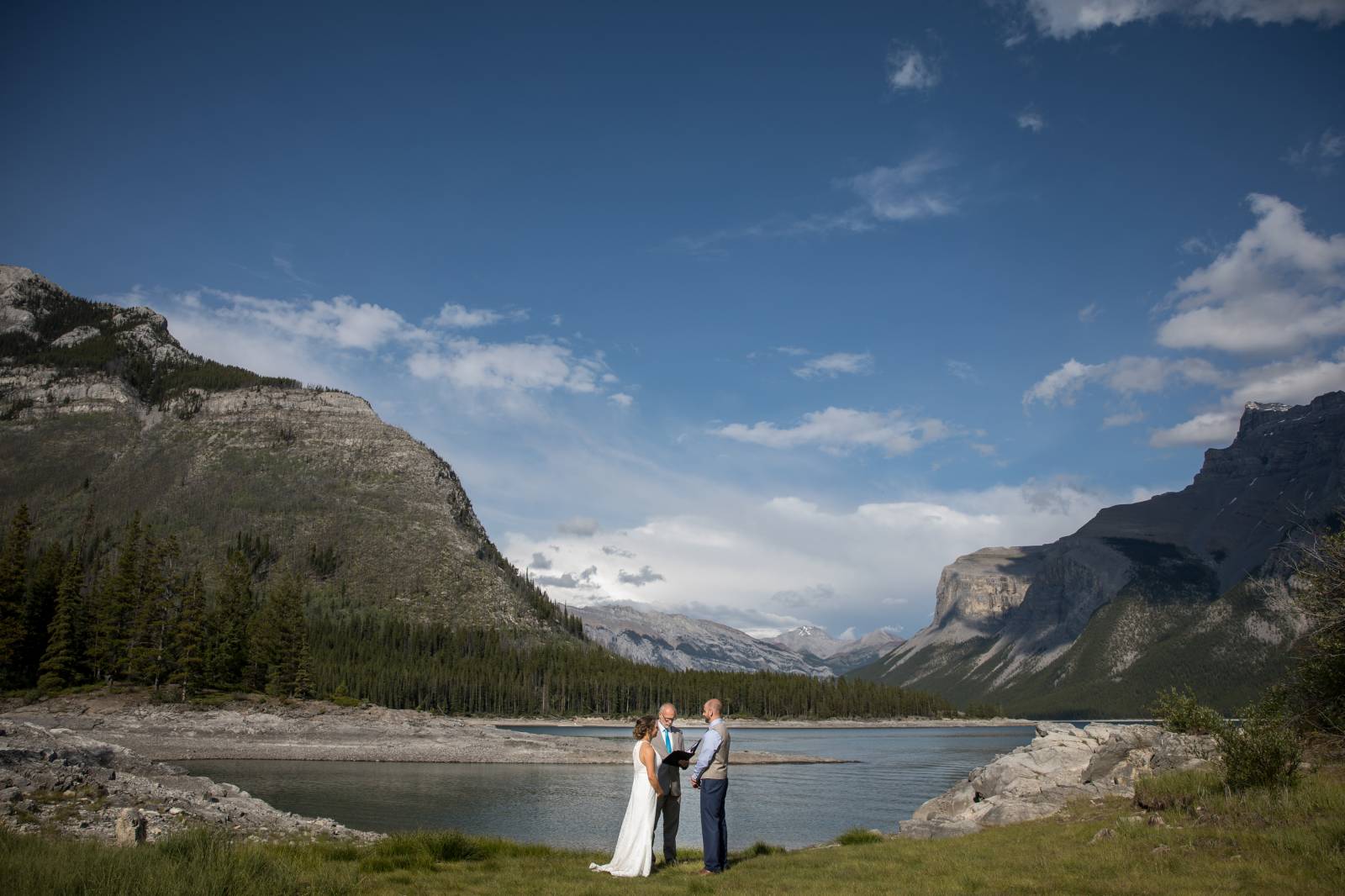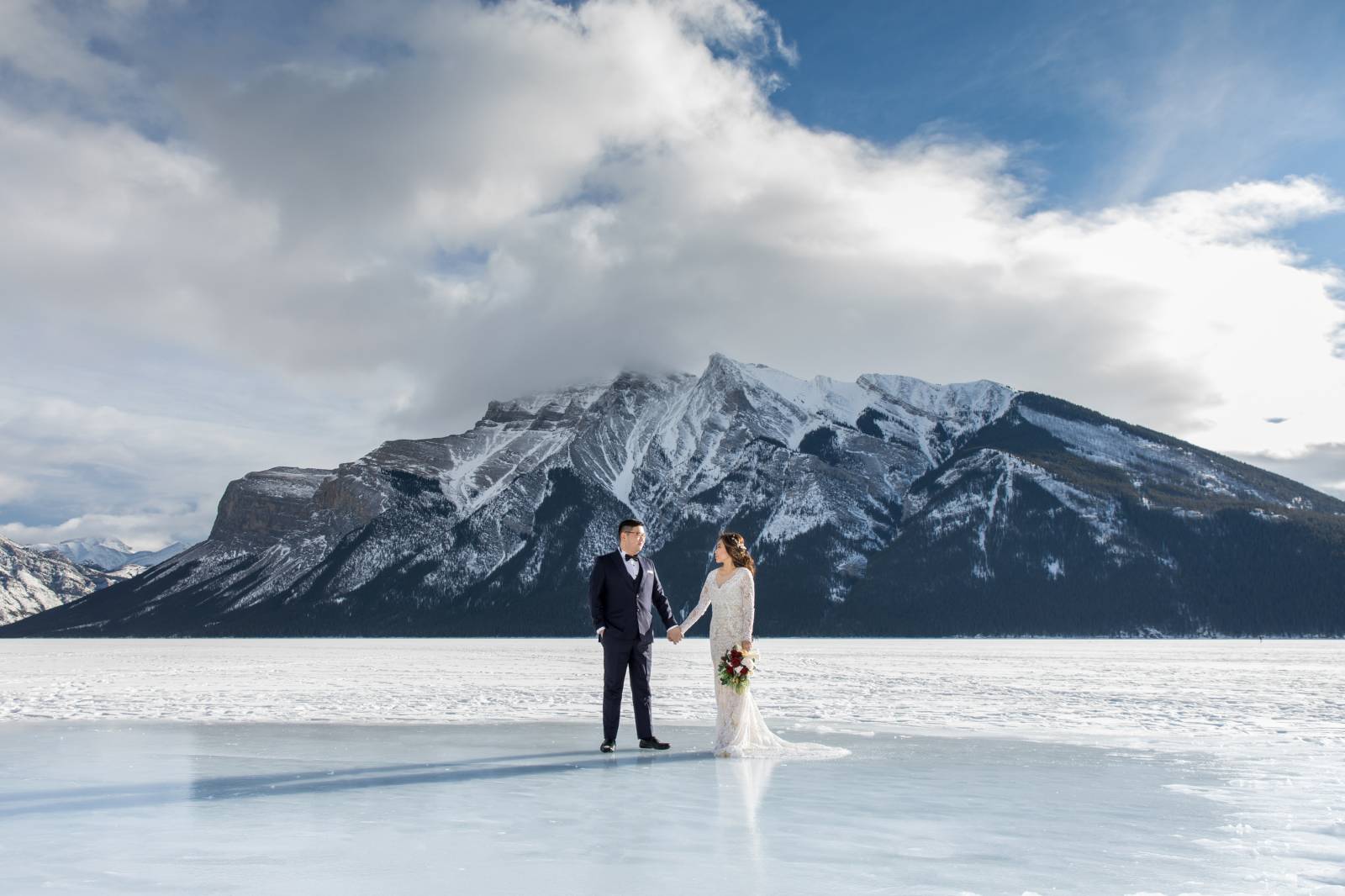 3. Two Jack Lake
Two Jack Lake is just beside Lake Minnewanka. It is a smaller lake and depending on the time of the year and how it is photographed you can get that beautiful turquoise colour everyone is dreaming about. On a warm summer day it is quite busy with people having a picnic and swimming so if you are looking for a quiet location, it might not be the best option for you.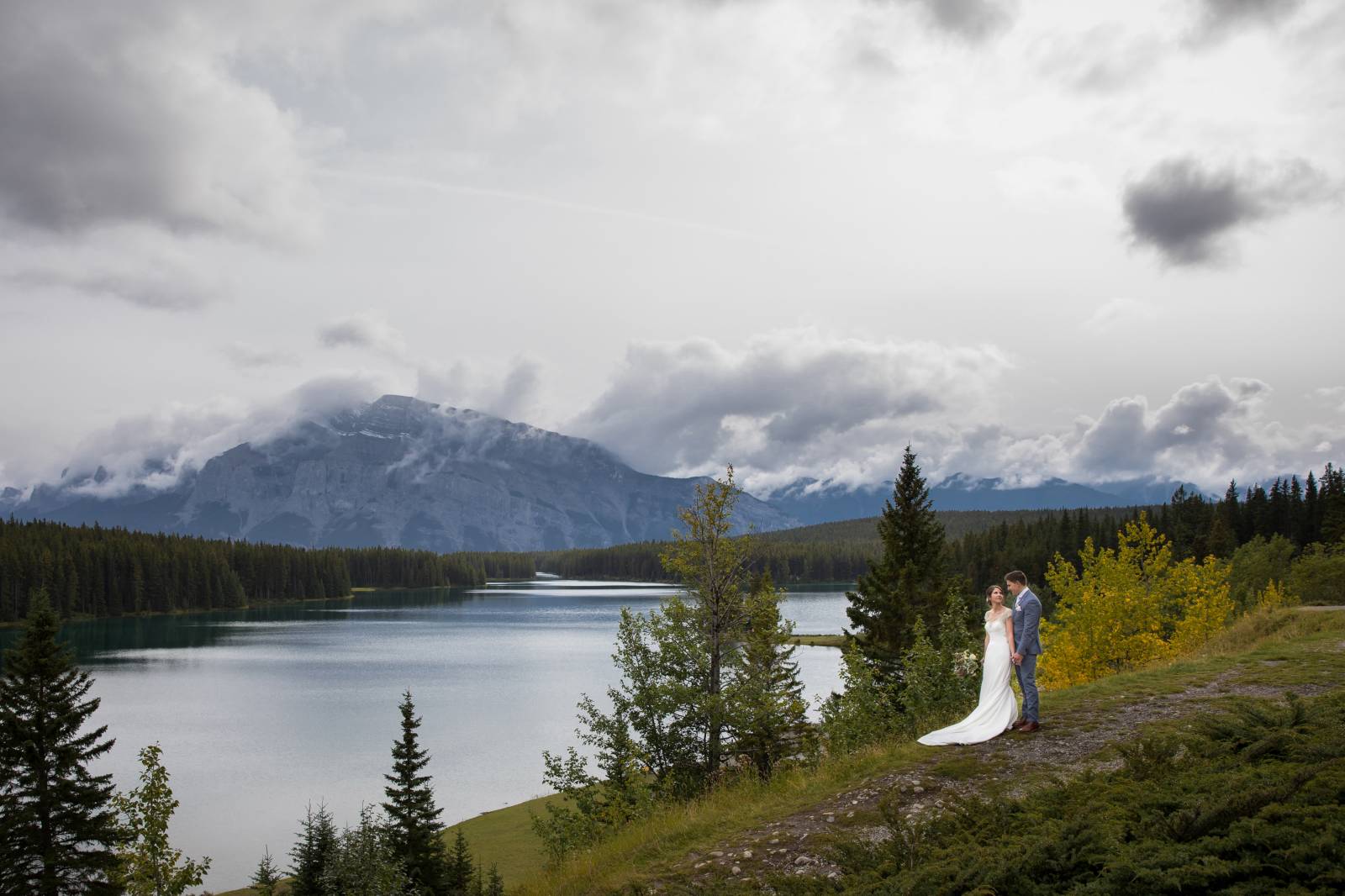 4. The Norquay Lookout
If you are looking to share your vows from an higher point of view without any hiking involved, I recommend the Norquay lookout. It is located just a short drive outside the Town of Banff and doesn't require much walking, you just need to worry about the gopher holes because these little creatures are everywhere haha! From the Norquay lookout you can see Vermillion Lakes, the town of Banff and Rundle Mountain!
5. Bow Falls and the Bow River
Bow Falls is located in the Town of Banff and is a very popular location with tour buses. If you want to share your vows at that location in Summer, I recommend going there early morning or later in the evening to avoid the crowds. In winter, it is beautiful and much more quiet. The Bow River has a lot of "secret" locations where you can share your vows privately. Being a Banff local, I walk around town very often and know all about the quiet locations. I'm always happy to help my clients find the perfect location for their Banff elopement.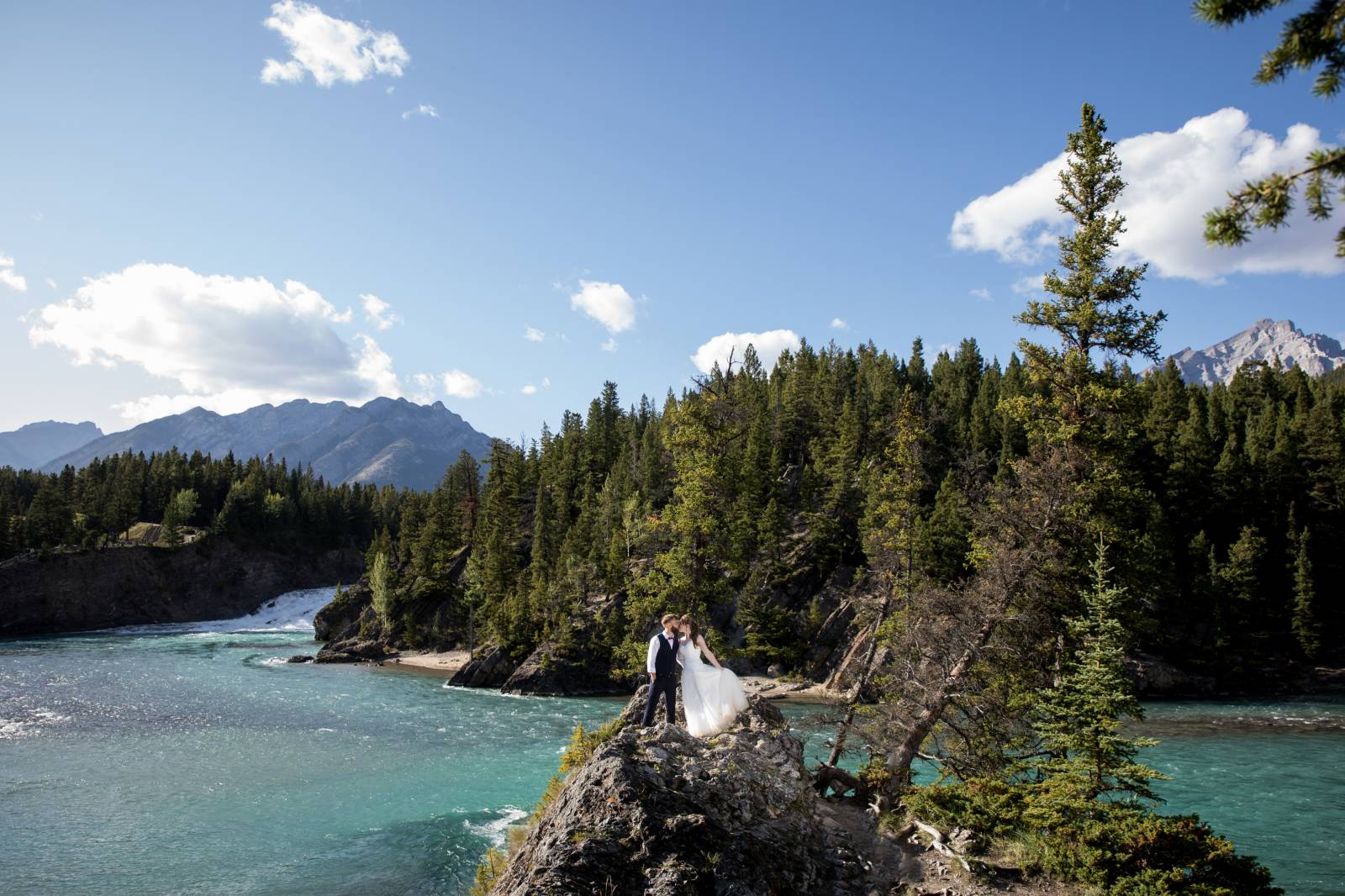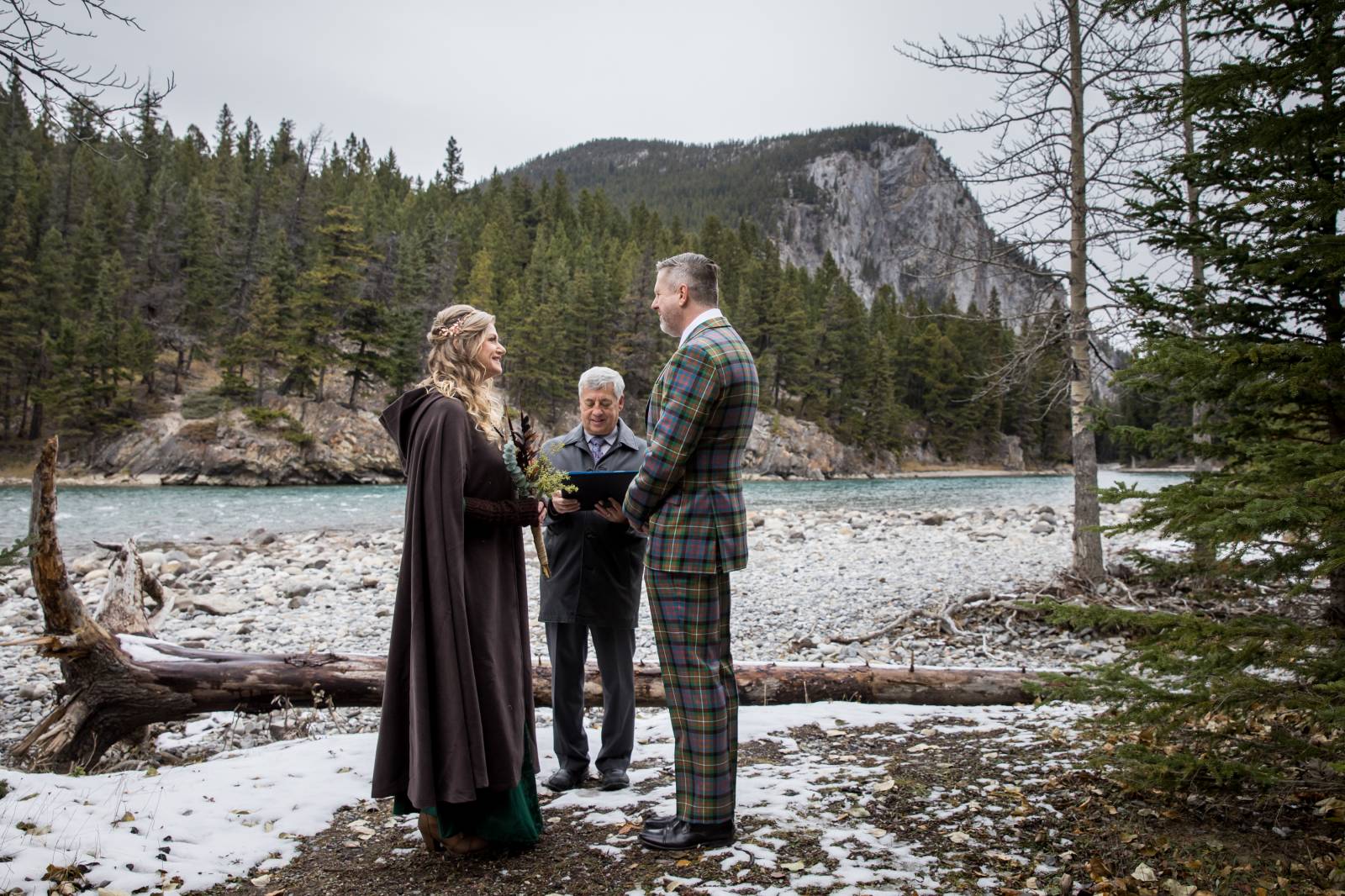 Lake Louise is well known around the world for it's turquoise water and the Victoria Glacier. For Lake Louise, you can either stay at the Fairmont Chateau Lake Louise and use their facilities for your wedding day. You can also organize your elopement or intimate wedding ceremony by yourself with your vendors. In Summer you can get married in the meadow and in winter you can get married on the frozen lake. If you opted for that option, you can't reserve the meadow which means you can show up and there could be another ceremony.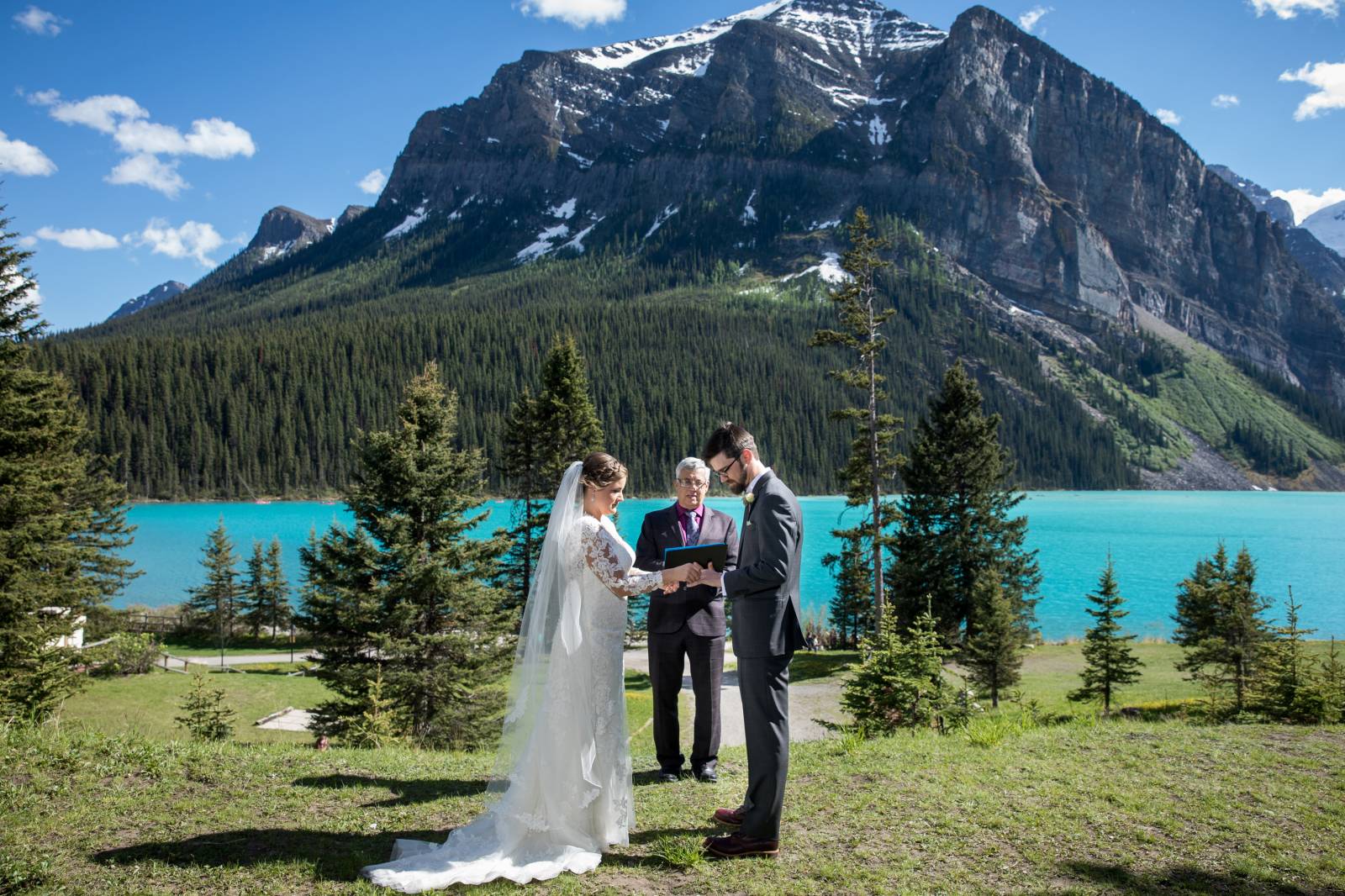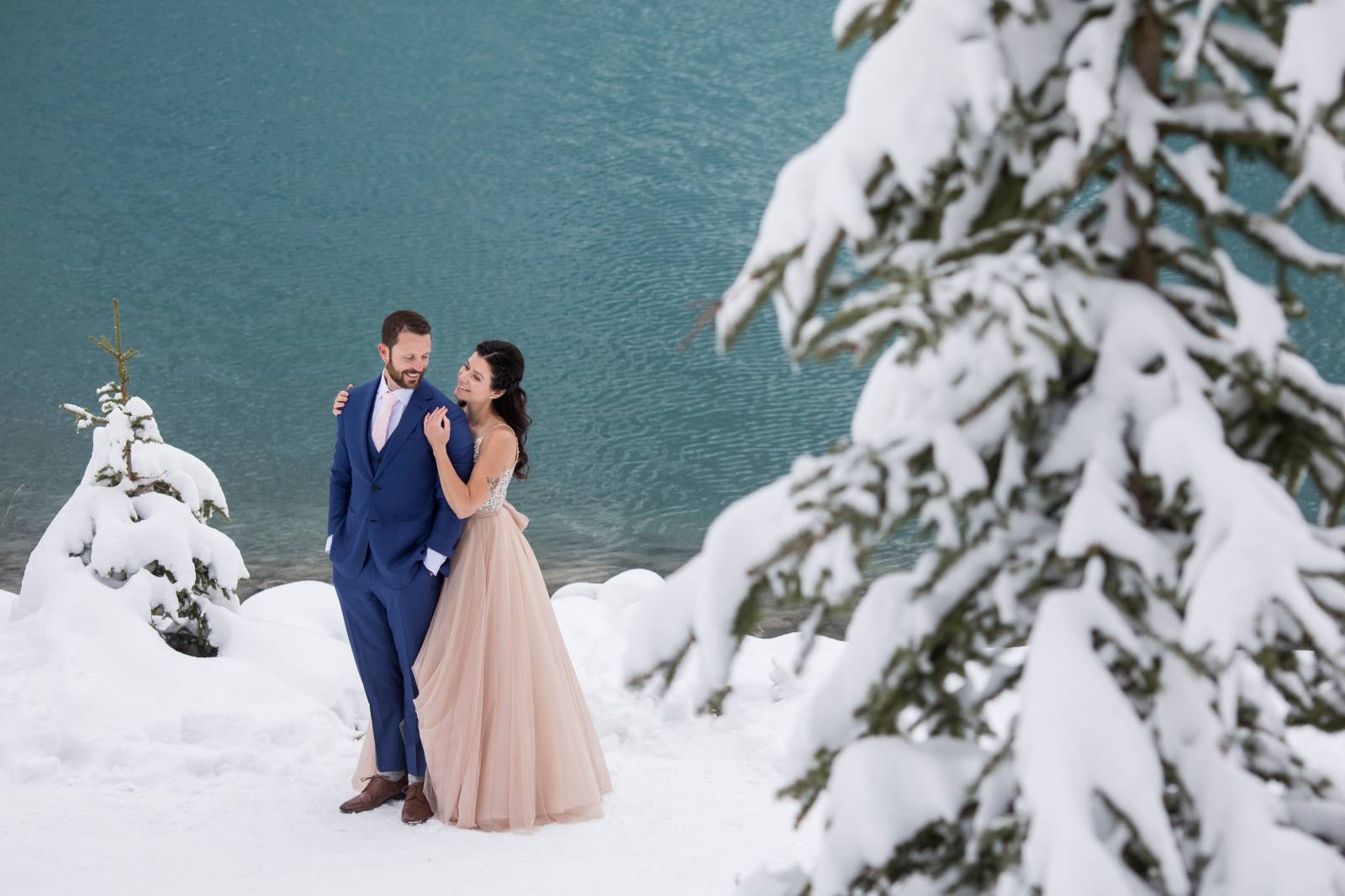 7. Peyto Lake
Peyto Lake in Banff National Park is one of my favourite location in the Canadian Rockies and it is perfect for small elopements if you are up for a hike. It is another popular destination for tourists but if you hire a local they will know their way around and can bring you to some areas that are more private. The Lake is usually frozen from late October until late May/early June. Peyto Lake is located on 93N and it is surrounded by a lot of beautiful locations for photos.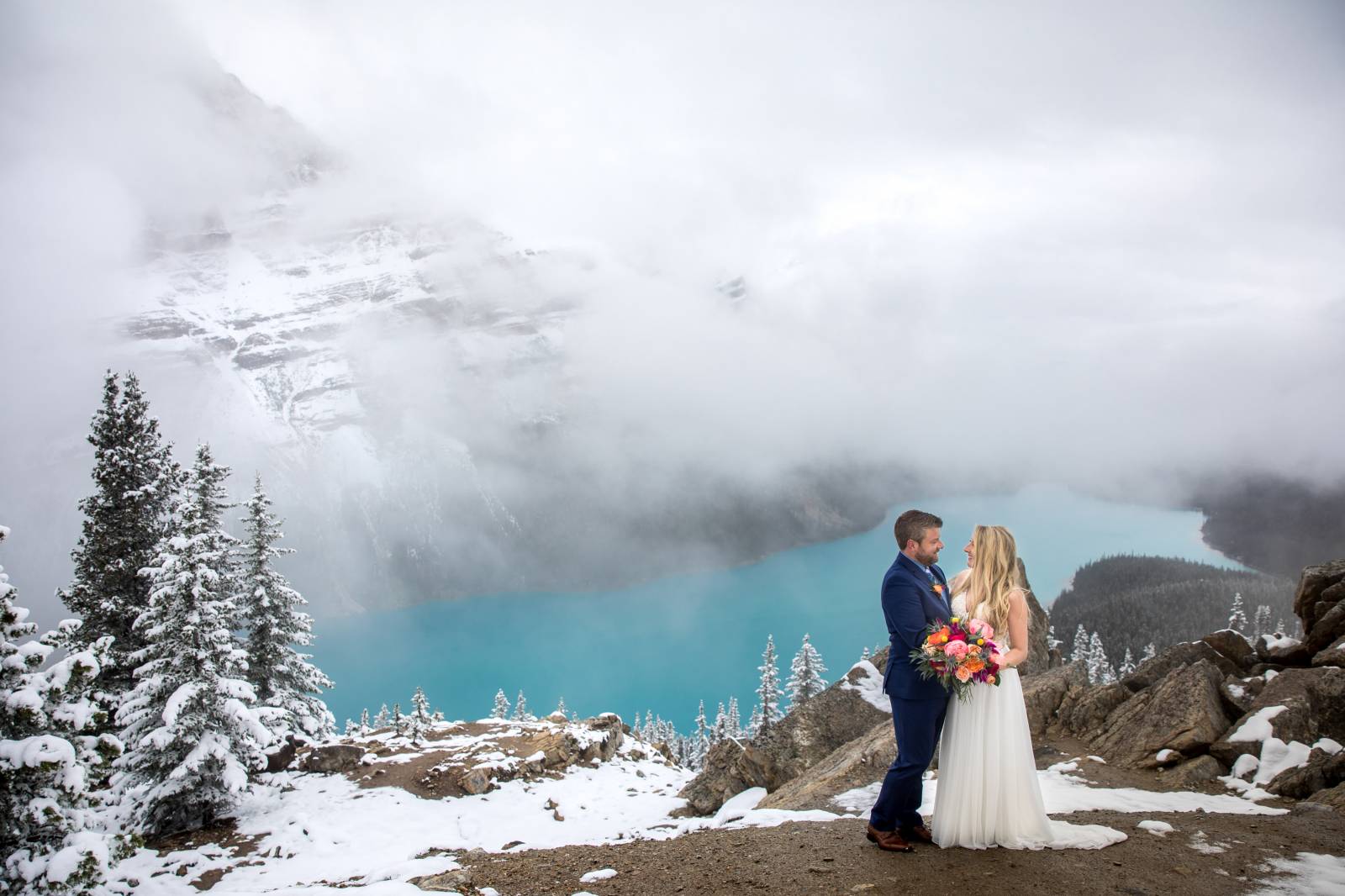 8. Storm Mountain Lodge
If you are looking to stay in a rustic cabin and enjoy delicious food, Storm Mountain Lodge is a great location. You can have a small wedding inside their main lodge or they do have outdoor options. I have photographed a few weddings there and stayed there in winter a few times because it is a magical place! It is located between the Town of Banff and Lake Louise which means you have a lot of options for your couple wedding portraits!
9. The Post Hotel
The Post Hotel is another great option for a rustic cabin wedding and elopement. The Post Hotel is located in Lake Louise so you can easily have your wedding photos taken by the lake. They have a few restaurants and a spa. It's a great options for couples who want to celebrate their honeymoon at the same time.
Moraine Lake is the busiest location in Banff National Park. Every year it is becoming more and more popular and so many people want to have their wedding there. If you are dreaming of having your elopement or wedding ceremony there, I recommend that you stay at their lodge this way you will have guaranteed access. Moraine Lake is only open from Mid-May (after Victoria Long weekend) until early October (Thanksgiving weekend). During the summer days, it is not rare that they close the road during the day because the parking lot is full. If you really dream of having wedding photos there I would go there early morning or later in the day and would recommend having your ceremony somewhere else. If you are interested in Moraine Lake, please contact me and I will be happy to give you more informations on that beautiful location.
These are the main locations for outdoor elopement and intimate wedding ceremonies in Banff National Park. There's a lot more locations all over the Canadian Rockies that are more private and just as beautiful. If you are up for something different and up for a little adventure, I will be happy to recommend you off the beaten path locations. I love hiking and would love to go on hikes with couples that are dreaming of eloping in the backcountry! I also photograph heli-weddings and heli-elopements!